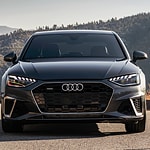 The 2022 Audi A4 Sedan features a wide range of exterior upgrades that improve its look and function. The most noticeable change is to the grille, which is now wider and taller for a more aggressive look. The headlamps have also been redesigned and now feature LED technology as standard.
The tailgate has been revised for a cleaner look, and the wheels have been updated to provide a more athletic stance. There are also eight new exterior colors to choose from, including two new metallic options. For those who want even more sunlight, an optional panoramic sunroof provides an unobstructed sky view. The doors and liftgate mirrors have been designed to provide better aerodynamics, and the wipers have been optimized for improved visibility while driving around Maplewood, MN in all weather conditions.
Together, these upgrades make the all-new 2022 Audi A4 Sedan one of the most stylish and sophisticated vehicles on the road today. We've got you covered if you want to see what the new Audi A4 looks like. Be sure to schedule a test drive at our Audi St. Paul today.